Archive for
March, 2010
1
Shared via here.
Shared by jg

Marketing done right.
Here's an adorable, tricky and clever video on the future of publishing, courtesy of the Penguin folks, who produced it for an internal presentation and then released it into the wild after everyone loved it. Be sure to watch to at least halfway, when the clever gets visible.
The Future of Publishing – created by DK (UK)

(Thanks, Miguel!)
0
Shared via here.
Shared by jg

www.socialmention.com is a useful tool for trend analysis.
This is great news.  Jon Cianciullo has done it again.  His app Social Mention has just won the prize for "Most innovative use of the Open Search API" at the Myspace Developer Challenge.
Social Mention is a social media search and analysis platform that aggregates user generated content into a single stream of information. It allows users to track and measure what people are saying about a topic across the web's social media landscape in real-time. Social Mention integrates with the MySpace Open Search API to provide photo and video results to be analyzed in its social media search results, emails alerts, and RSS feeds.
The prize is a nice $10K.  Way to go Jon! 
0
Shared via here.
Check out the flickr photostream of Michael Paukner. He's a graphic designer who makes a lot of art out of science, including the picture above.
0
Shared via here.
Shared by jg

A note on what's to come: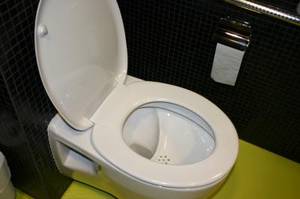 People in seven European countries have expressed willingness to try "NoMix" toilets that keep crap and urine separate, allowing for more efficient waste processing and less seepage of urine-borne pharmaceuticals into the water supply. The study was conducted with 2700 people in Switzerland, Germany, Austria, Luxembourg, The Netherlands, Sweden, and Denmark, with 80 percent supporting the toilets. Even higher numbers were willing to use urine as fertilizer.
The article doesn't discuss infrastructural issues, though: would you need a second black-water sewer for the yellow gold?
NoMix toilets get thumbs-up in 7 European countries
0
Shared via here.
Shared by jg

This will give Airstream a run for their money, right?
Cool!